WELCOME TO "FOR BRAKES AND MORE"
Brakes | Auto Repair | Domestic & Imports

For Brakes & More is a complete automotive repair shop that specializes in brake repair front end auto work for both Domestic and Imports. Family owned and operated by Bob and Gail Parisi who are now in their 19th year at this friendly Oakland Park location. They are ASE certified and do all type of auto repairs.

Serving Oakland Park, FL.



We also offer:

Tires, Batteries, Starters, Alternators, Shocks, Struts, Oil Change, Automotive Repairs, Wheel Alignment, Brakes, Air Condition Service
Brake Repair in Oakland Park, FL
Bob Parisi Started 40 Years Ago . . .
. . . in the auto repair business.  He started as a manager at Pan American tires where he worked for 10 years.  He then moved to manage Waleen tires for the next 12 years. With all this knowledge and years of experience, he and his wife Gail decided to buy For Brakes and More and have been providing excellent Customer Satisfaction every since.

Bob and Gail love to travel.  As an avid golfer, Bob can be found at Palm Air Golf Course 3 times a week knowing that the shop is in good hands "Gail"!
COUPON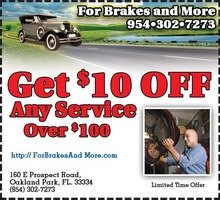 PDF
Get $10 off Any Service
Over $100

Limited Time offer

Click coupon to enlarge and to print.
COUPON
PDF
FREE Delivery & Pick Up

Limited Time Offer

Click coupon to enlarge and to print.